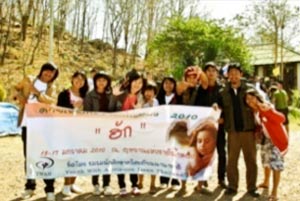 Kalasin province is the cultural center of Isaan (Northeast Thailand). People in this province are rooted to their traditional beliefs and culture and as such are strong in their Buddhist faith . YWAM Kalasin was pioneered by YWAM Mahasarakham in the year 2007.  At present we have only 3 fulltime workers.
Ministry
YWAM Kalasin basically focuses on Campus Ministry. The present ministry consists of working with students in three different institutions viz. Kalasin Rajabhat University, Rajamangala University and Kalasin Technical College. Our activities include prayer, worship and teaching English to name a few. We emphasize an importance on building relationships with students and sharing the Gospel of Jesus Christ. There are also a few school students being taken care of by YWAM Kalasin.
Vision
Focusing on campus ministry, our vision is to see students grow in the knowledge of God and become strong disciples of Jesus Christ.
Prayer Needs
Pray for more workers and volunteers to come and work with us.
Pray for finances (45,000 baht) for the renovation and repair of the main center.
Pray for urgent need of a vehicle (four wheeler) as there is no public transportation system within the city other than a few songtaews running along the main highway.
Pray for students to grow in their spiritual life.
Pray that God will bless YWAM Kalasin staff with His wisdom and guidance.
Contact YWAM Kalasin
YWAM Kalasin
P.O. Box 102
Amphur Muang
Kalasin 46000
Thailand