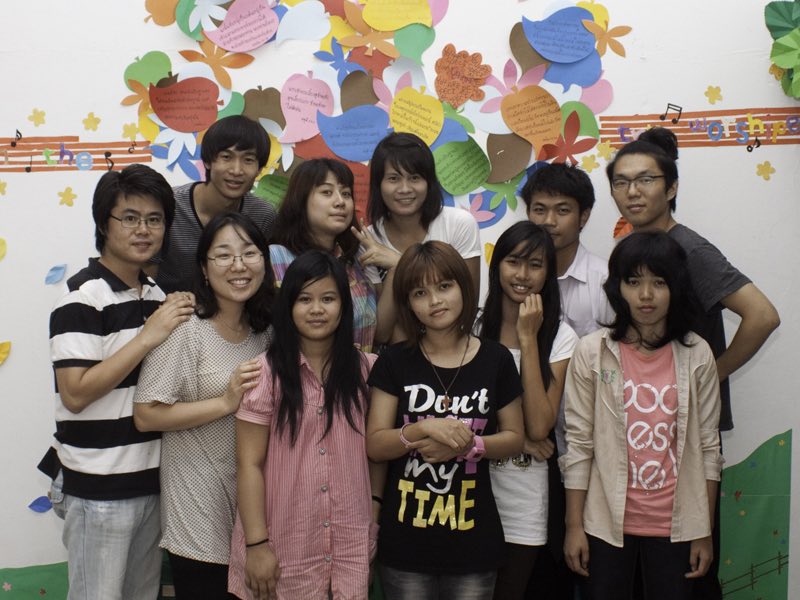 In October of 2007, Campus Ministries became a focal point for YWAM Udonthani. After 10 years of service with campus ministries and intercession in YWAM Khonkaen, Korean missionary Young-Ju Kim felt called to start evangelizing to students in Rachaphat Univ. Udonthani.
Currently, YWAM Udon is composed of three staff.
Young-Ju Kim and her husband Ji-Wan Ku serve as leaders, and Venus is an experienced Thai who full-heartedly participates and helps lead various campus outreaches.
Every Monday evening, we put on a worship meeting at our center.
Our Vision
Just as Psalm 110:3 says, we desire to see every young heart in Udonthani find truth and purpose in Christ and willingly go forth in His name, alive as He lives in them. 
Our Goals
To ignite youth and walk alongside them in their faith.
YWAM Udonthani launched the Christian Circle in June, 2008. We evangelize, intercede and worship every week on campus. We offer Korean classes, plan a special Christmas celebration and organize regular cultural inter-change camps. Along with those activities, we manage the dormitory for Christian students.
To start Youth Ministry in 2012.
To help local churches in Udonthani.
We have a cohesive relationship with local churches. We'd love to work alongside their congregations to bring the gospel to the city and equip students with leadership training.
To support Laos missions.
Since November 2009, God has put Laos on our hearts. We have a vision to help and support missions in Laos. We have intercession every Friday and have set apart a monthly "Mission Day." We have developed connections with a Laos YWAMer who wants to launch a campus ministry in Vientiane, and we feel called to join his efforts. We would love to see Thai missionaries reach out to their nation's neighbor.
We pray that missionaries in our communities will take part in being God's hands and feet in Laos.
Financial Support
Note: Online donations are NOT tax deductible.