Principles in Child and Youth Ministry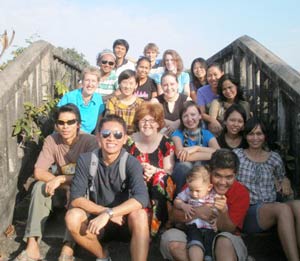 The PCYM school is currently not running. If you would like to be notified in the future when the next PCYM school will be, please contact us below.
For years YWAM and King's Kids in Thailand has been working and partnering with children, youth, and families through our outreaches, leadership training, camps and other various programs. One of our training schools that have mobilized, equipped, and trained young people and families for ministry is the Principles In Child And Youth Ministry (PCYM) School. The PCYM training course is registered with the University of the Nations and is offered in a 6 month or 12 month format, with the goal of equipping adults to work with teenagers, children and families. It is a residential training school, combining practical ministry experience with quality lecture input from local and international speakers. The course focuses on essential foundations, principles and strategies of ministry to children, young people and families.

Our ministry statement is:
To lead children, youth and families worldwide into a proven knowledge of God, bring Him joy and together make Him known to all peoples.
We would like to invite you and/or anyone who is interested in being trained and equipped for ministry with children, youth and families to be part of this year's PCYM. The school will be located in Bangkok at the YWAM Thailand "Nancy Ross Training Center" (NRTC) next door to our National Office building.
---
Tuition
We have also opted to follow the U of N guidelines regarding a 3-tiered system of calculating tuition, depending on the citizenship of the student. See your UofN Reference Guide for the chart and explanation. World A students pay full tuition. World B students pay a lesser amount. And World C students pay only for food and lodging.
Thailand is considered World B. Therefore, the tuition breakdown will be as follows:
120,000 Baht for country A
50,000 Baht for country B
40,000 Baht for country C
This fees includes the lecture and outreach phase. Outreach locations will be in the Philippines, Thailand, China and the end of the earth. (Using an approximate currency rate of 1 US dollar = 31.96 Thai Baht)
Read the Biblical Basis for Adopting and International Financial Scale
---
Some of the topics will include:
Keys to Effective Discipleship of families, children and young people
Foundational and inspirational teaching on the character of God as it relates to working with young people
The Human development: understanding the differences between age groups and how we need various strategies to reach and discipleship them
Principles and Values of KK Ministry, Linking the generation: KKI Goal and Vision, Understanding why should all generations should be found in The church, Joel 2:28
Curriculum Development, Camp planning(Go-Camp,Boot Camp, Daniel prayer group)
Children at Risk, street kids, orphanages and abuse kids
Creative intercession and Teaching skills, communication, circus and clowning
Biblical Worldview: understanding the important of role of children and youth in the Kingdom of God
Spiritual capacity of children and youth, Understanding children Youth culture
Discipleship young people, Counseling Teenagers
Leadership, conflict resolution, team building, 7 habits of highly effective people
Outdoors Ministry – How to use the outdoors (Niko).
Financial Support

Note: Online donations are NOT tax deductible.