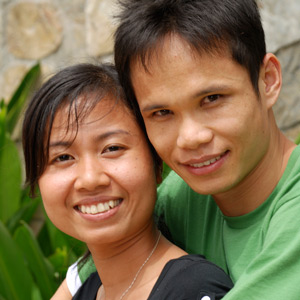 I (Tan was born in a village in the Northeast of Thailand on the Laotian border very close to the Mekhong River. Everyone in my village was Buddhist and when I was young, I believed very deeply in the power of magical Buddhist amulets. These were usually images of monks or my ancestors that I wore around my neck for protection. 

After I finished high school, I went with a friend to Bangkok to enroll at Ram 2 University. He arranged for us to stay at a dorm near the campus. I didn't realize that it was a Christian dorm run by YWAM called House of One Heart (BJD). I wasn't too happy about it being a Christian place but I didn't have anywhere else to go. I decided to look for somewhere else to stay but, soon after getting there, I got sick with a high fever. I was very impressed with the way the Christian guys took care of me. I chose to stay at BJD and after some of the Christians told me about Jesus, I decided to pray to accept Him as my Saviour. I still had my amulets and kept them hidden away. Then, as I learned more about God, I began to realize that I didn't need them anymore and I got rid of them. 

During my Discipleship Training School (DTS), I learned how to play guitar and keyboards and was trained in sound engineering. Afterwards, I joined the staff of YWAM Thailand's new Performing Arts and Worship Ministry. I then took a break to attend the first YWAM School of Worship in Bangkok in February 2004.
Now I am working on recording new Thai music and videos that will spread the Gospel in Thailand and will encourage Thai Christians. It is a privilege to serve the Lord in Thailand. Thank you for your prayers and support!
Contact Tan & Gai Srisombat