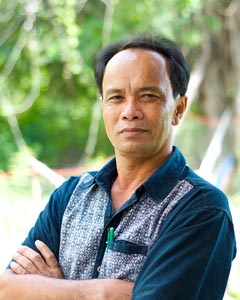 My name is Nit Piawong, but everyone calls me "Paw Pan" which means - Pan's dad, in Thai!! This is because my son Pan and I both work with YWAM Thailand! Originally, I am from a small village in Northeastern Thailand called Boontarik, just above the Cambodian border in the province of Ubonrachatani.
For many years, I was living my life in a strange way. I worked as a carpenter and also a truck driver and sometimes I was a representative for different companies. I used to do lots of odd jobs here and there because I wanted to have lots of money to do things that I thought would make me happy: women, drinking and gambling. Any time I had money, there were the things I was looking for, sex, drugs, food and alcohol. I was really selfish and thought only of myself. As I kept living this life, noticed that I started smoking more, about 40-60 cigarettes a day, and I was drunk every day. I was also using amphetamines and other kinds of drugs just to get high. I was just wasting my life away! All the happiness I thought I could have by using all the things never lasted.
So this was the way I was living my life from age 18 to 39 until the day a small YWAM outreach team came to my village with my son Pan to talk to me about Jesus. This is when my life started to turn around.
After I became a Christian, I started to back off the drugs and alcohol. I was still discouraged sometimes and worried that I would never get away from all of these addictions. But there was a incredible strength that came and helped me carry on day by day. Some days I felt I had some victories and other times I felt I was defeated but one thing I know for sure is that God gave me a new chance and a new life! God gave me friends who loved me and helped keep me free of my many addictions. He has totally turned my life around.
Today I am the leader of the NRTC facilities manager. I enjoy this role as I am able to  disciple the many young Thai men and women who work with me in this department.
My dear brothers and sisters, John 11:40 says, Then Jesus said, "Did I not tell you that if you believed, you would see the Glory of God?". Now I pray that the Holy Spirit and the Power of Jesus Christ and the Love of our God will be with you wherever you are to help you take His message of Hope to everyone! God bless you and thanks for your prayers!
Paw Pan