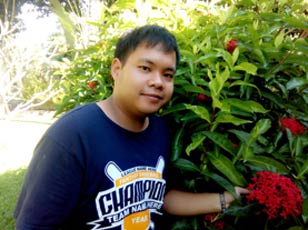 My name is Tosapop Makkun, my nickname is Pan. I was born in Bangkok and lived there until I was 17, when my family moved to Chiang Rai for 6 years. After that they moved to Nakhon Sawan, where they currently live.
I grew up in a strict Buddhist family. I would read the book of Buddhist chants and could remember them from when I was 10. I enjoyed making merit like most Buddhists, but I always had this question inside, wondering why I didn't feel happy? Why could I never find success? It was like I had no purpose in life. I came to know God in 2011 through a CDTS team from YWAM Hawaii, and through that team my whole family came to know God. I now had a purpose in life, and this is what I was looking for. It had answered my questions that I kept asking myself for as long as I could remember. I think everyone who has found God and had an experience like me will understand what I am talking about here.
I did my DTS at the YWAM Phang Nga Andaman base in 2015. It was an amazing time for me, enabling me to get to know God and building great relationship with Him. I believe that if I hadn't done a DTS, I would just be a Christian that goes to church and reads the bible, but doesn't really know God. I would definitely not be part of the YWAM family. Currently I am serving with the YWAM Phang Nga Andaman base, helping in lots of general areas in the base, staffing the DTS, working with outreach teams and translating.
My hobbies are playing games, listening to music (I love this a lot, listening to any kind of music), excercising, reading and general relaxing. I am a quiet person, but I want to get to know everyone. If you want to get to know me, you can email me below or come and visit me at Phang Nga Andaman.
Prayer Requests
Pray for God's provision, whether it is for my next goal, where he wants me to go, and finances (for my daily life and for ministry).
Pray for strength in serving, increased focus in my various roles and enjoyment in working with God.
Pray that I would continue to grow and get to know God more.
Pray for my family, their health and for my personal health.
Contact