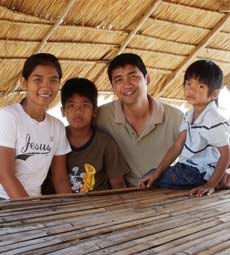 Our family began serving with YWAM Khon Kaen in 1999. We were serving in many ministries, but we really had a heart to see Thai people worshipping God. It is our hope to see this happen in a greater capacity in the future.
We have really seen the greatness of God use insignificant people like us in many ways:
Since 2007, we started a DTS in Khon Kaen with a focus on Thai people. This DTS is still running.
In 2009, we started a Family Ministry School, which we hope is very beneficial to all families.
Both the schools began by the hand and will of God, and we want to give our all to the schools. No matter what the fruit of the schools is, we give it all to God. If we see good fruit, we give all glory to God. If the fruit isn't what we expected, we still give all glory to God. We have really grown in our faith and understanding of God from the support of God and the support of those around us.
Whatever we are doing, God is there helping us. God has helped us in many different ways, including through those around us. This has helped us to grow in confidence in the knowledge that God is always with us just as He promised in Exodus 3:12.
In 2011, we want to do a leadership school in Chiang Rai. Please pray that we can further develop and improve in different areas that we need for our ministry. We also want to do the ABCS (Addictive Behaviors Counseling School), but we aren't sure of the timing yet. It is something that we really want to learn more about.
Please pray for our families' finances, that God will continue to bless us in this area, as well as that we can be a blessing to others.
Our family would like to receive blessings, but would also like to be more of a blessing to others. We readily admit that our family isn't perfect, we still need a lot of help from God and from people around us. Thank you all for your prayers and encouragement for our family and our ministry.
May God bless you,
Man & Yung
Contact Man & Yung Thawipak