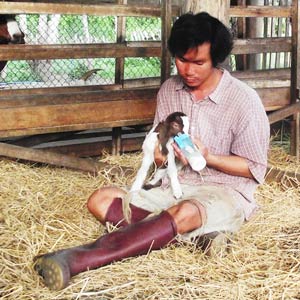 My name is Krangkrai Yosuya, and my nickname is "Em". I am currently serving with YWAM Kanchanaburi. I am the 3rd child of 5 in my family, and I grew up in Chiang Rai province. After completing high school, I had the opportunity to continue studying in Bangkok, and after my 2nd year there, I got to know YWAM through Baan Jai Diaow ministry, which is a Christian student dorm. I got to know people there before I accepted Christ in the year 2000. However I wasn't very firm in my belief, and in my 3rd year I met some circumstances, which meant I had to move out of Baan Jai Diaow. For more than a year, during which I strayed from God, I learnt a lot about love and the care from those that didn't leave me. So I decided to come back to God with a full heart and confident that God wanted me to come back and walk with Him. I went and visited YWAM Kanchanaburi in 2003, where God gave me a heart to come and serve there from 2004 until 2010. Then I had the opportunity to do a Discipleship Training School (DTS) in Khon Kaen. After completing my DTS, I came back to be full-time staff. Then in 2011 I went back to serve with the DTS for 6 months, after which I cam back to serve with YWAM Kanchanaburi. God has given me a heart to serve with the DTS for 6 months as well as YWAM Kanchanaburi 6 months each year, until God gives me vision or a burden for something new.
Please Be Praying For:
God to continue to train me in His ways.
God to reveal His plan, vision and burden for me in my service for the future.
Patience and wisdom for me in difficult situations.
God's provision, especially in my finances for my daily needs, as well as that I will be able to bless other people.
Contact Em Yosuya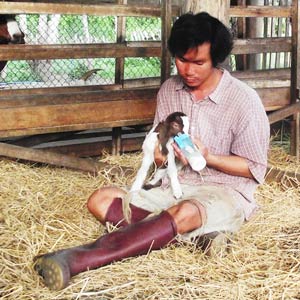 Share