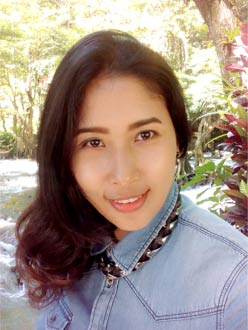 Hi, my name is Ratchanu Kulkit, but I go by my nickname "Daow". I was born in Phang Nga province in the south of Thailand. There were 7 people in my family, but now we have only 5, because my parents passed away 12 years ago. My family is Buddhist. I am the 5th child, and the first in my family to follow Christ. I was saved 11 years ago through the Baan Jai Diaow ministry. I was reborn then, and now, I am still following Christ. I have a heart to draw many people into the path of God and to live a life that shines light and has influence in the lives of those around me and in society.
Through the past 11 years, God has changed many things in my thoughts, my mind and my actions, through different areas of training. One of these areas I think is really important, and it's where God really moved in my life. That was through a Discipleship Training School (DTS). I love DTS, and I love to see other people's lives changed and to see them see things more like God does, and change their character to be more like Jesus. I want to see the things that happened to me happen to other people too, especially in the South of Thailand, where I was born. I want to see Southern people receive salvation and follow God more. I was to see the Kingdom of God expand and to see more ministries there.
I believe that the DTS in the South of Thailand, is a doorway to new things to happen and will be a blessing to the nations.
If you have any questions please write send me an email below.
Thank you for reading and I believe you will keep this in prayer for me during this year. Thank you for having a part in my life and God's plan for my ministry.
God bless,
Daow
---
More of my Story: God's Call On My Life
In my third year at BJD I began ministry with the dance team using dance in worship. As I ministered with the team I began to realize this is the area where I felt I wanted to serve the Lord. In my fourth year I decided to go study a Discipleship Training School (DTS) in Chaing Mai in the north of Thailand. This is the first step to being staff with YWAM.
In my DTS I was challenged and God changed my life in many ways. God showed me more about myself, about my life, and gave me more clarity about my goals in life.
In February of 2005 I had to take my first step away from BJD and began to work as staff. To make a little money I was able to clean the YWAM office for 3000 baht/month. During that time I felt the Lord was checking my heart to see just how faithful I was in following Him. Finally He challenged me to choose to do what He had called me to do and trust in Him. I realized He had given more of a heart to use dance and the need to learn more about dancing. So I decided to stop working so I could concentrate on improving my talents and follow Him in what He was calling me to do.
I worked with the Performing Arts Ministry in Bangkok for 5 years – using Thai dance to worship God. I was able to use this gift all around Thailand. And when I did this, I could see the Thai youth in many places start to use Thai culture and mix it into a form of worship for God. This became my goal.
I concentrated on using traditional Thai dance and incorporating it in worship. I took more lessons in traditional Thai dance. I taught and led teams to various places throughout Thailand to use dance in worship. When there was a DTS I went to help teach some of the dances to the students for their outreach. I was also able to teach dancing in camps and different schools.
After 5 years of working with Performing Arts, when I saw my goal had been used to its potential, I felt led to step out and work on the other goals God had been placing in my heart. I studied in the Leadership Training School (LTS), and God grew in my heart a vision to see the youth in my home village come to know God, just like I came to know Him. I realized that I needed to learn more about God and be trained more in taking care of people before I can put this vision into action by moving back to my village. Whatever happens I give my vision to God. It's all for Him to prepare in His timing, and it's up to Him when He leads me back to my village.
After the LTS I went to study in Chiang Mai at the School of Biblical Studies (SBS), and I thought after my SBS that I would be able to go back to my village, but God had something different in mind.
It was time to learn from God about how to take care of others, to nurture and disciple them in their relationship with God. I learned this by being staff at the DTS in Chiang Rai. When I finished my SBS, God asked me to go to Chiang Rai and help on DTS staff, and I have just finished 3 years on staff there.
Contact Daow Kulkit