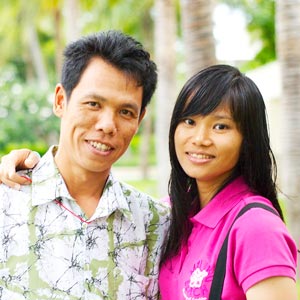 Mr. Arun Phummarin

I was born into a Buddhist family in western Thailand in 1977. I'm the youngest of 7 children. My father, a successful farmer, died when I was 3 months old. Without his income my mother was forced to sell the farm and our home to pay back money that my father had borrowed. Faced with raising seven children on her own, my mother decided to move to another village where other relatives could help us. My older brothers and sisters did not study beyond 6th grade, and all of us had to work from a young age to help our family survive. Often my family had nothing to eat, which made me determined to study through college so that we would not be poor. I believed that education would rescue us from poverty.
Like most Thai young men I attended a Buddhist school, and I served as a novice monk for about a month during grade school. In 1996, I began studying Political Science at a university in Bangkok. It was there that I heard about Jesus for the first time from a group of Christian students involved with YWAM. For me the story of Jesus was totally different than anything I had studied, and it was not easy for me to accept because I had grown up for 20 years with Buddhist teaching. After 8 months of struggling with the Gospel, I began to believe because Christians were the only people who could answer the difficult questions in my life. I was the first person from my family, village, and district to believe in Jesus.
I used to be embarrassed about growing up in financial poverty. Now Jesus is showing me not only that he used my circumstances to draw me to him, but also that true wealth is in knowing him.
Mrs. Jairak "Pang" Phummarin
Pang is from Payao in northern Thailand. She was born in 1979, and grew up in a Buddhist family. She has 4 older stepbrothers and sisters on her father's side. Pang first heard about Jesus at 15 years old, when a foreigner came and passed out Bibles. When she read the Bible, she didn't understand it and lost interest. While in the north, Pang's family had a successful restaurant and convenience store business. During the Asian economic crisis in 1997, her parents business suffered and they moved to Bangkok to look for work. In 1998, Pang also moved to Bangkok to study at the university where Arun was studying. That year, Pang heard about Jesus again and that time she decided to believe it. Pang has a special gift for prayer, and is always interceding for the university students and for our country.

In 1999, Arun graduated from university. That year both he and Pang went to a YWAM University Discipleship Training School (UDTS). UDTS is a year-long training program for Thai Christian university students who want to develop their relationship with God, and understanding of Him. After graduating from UDTS, they both became YWAM staff in Bangkok, and then married in 2000.
Contact Arun & Pang Phummarin