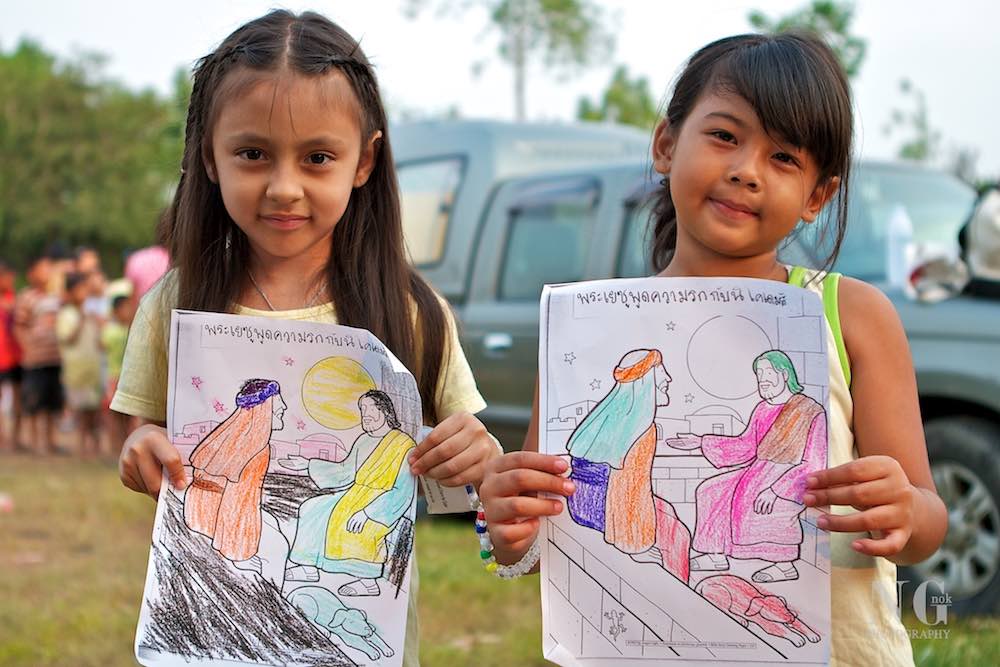 170 children. Slum children. Children desperate for a smile, a hug. They get that, and more when Pattaya Slum Ministries (PSM) does 'kids klub'. It is one of the few times the kids are truly safe, happy, loved. But PSM is more than that. Pattaya Slum Ministries wants to help the poor help themselves. So they help with education, skills training and income generating projects. For those in desperate situations, PSM gives rice and basic necessities, or helps with medical bills.
Situated right next to the slums they serve, Pattaya Slum Ministries Community Center has become a magnet for children, teens and adults looking for a listening ear and a caring heart.  English classes, teen nights, job training, guitar lessons, basic health care teaching, and special skills training happen there. But the foundation for all this is relationship with the families in the slums that huddle behind the bars, brothels and hotels of Pattaya. So the committed, concerned staff of Pattaya Slum Ministries are daily in the slums, now regularly visiting 7 slums each week, reaching out to hurting children and adults. PSM partners with other local ministries and visiting international teams in the work they do.…work that is full of laughter, sweat, smiles, and changed lives. That's what L.I.F.E. is about.
Real L.I.F.E. Story:
Hugs and hope. They can do amazing things. When Jade first came to Pattaya Slum Ministries, she was so hungry for hugs. She'd stop by our Center every day on the way home from school just to get a hug.  Gate* used to live with her mother Jan*, but when alcohol became Jan's main reason for living, Gate moved in with her grandmother.Day by day Jan's addiction to alcohol got worse. Finally the day came when alcohol was winning and Jan was dying. When we met her in the slum, her yellow skin and swollen stomach showed her liver just couldn't function anymore. Desperately thin, desperately afraid, she begged us for help. We gladly took her to the doctor but the news wasn't good. It was bad. Very bad. Her liver was damaged, but worse than that, she was told that she was HIV positive. This time the hugs were for Jan, and so were the prayers. She became a Christian that day.  And hope came in. Then came the miracles. Three weeks later, her stomach was down to a normal size and the color of her skin was a normal dark tan. Now, five months later, Jan has gained weight, looks very healthy and has remained sober!  She is all smiles when we visit her.She has hope in her heart again.She and her daughter Jade are learning how to love each other again, step by healing step. It will take time but they'll make it. They have hope now. They go to church together now. You can pick them out easily because they're the ones hugging each other all the time. Jade and Jan. That's what L.I.F.E. is all about.
* Not their real names
Give:
$12 US help 80 slum children to enjoy a good meal once a week
$14 US covers the cost of lice treatment for 10 children
Staff support (2 sponsors per staff): $120 US/month
Rent for Center: $290 US/month
Volunteer Needs:
Administrator
Those with children/youth work experience

We are always open to have volunteers come and serve alongside us. Doctors and nurses are also welcome to come and help us do primary health care for the slum people.

Contact Pattaya Slum Ministries
Pattaya Slum Ministries
Box 485
Pattaya 20260
Thailand
Financial Support
Note: Online donations are NOT tax deductible.
If you wish to support our ministry through tax deductible donations, please send checks payable to "YWAM Montana" to:
"YWAM Montana, 501 Blacktail Rd., Lakeside, MT 59922, U.S.A.".
Please don't write anything else on the check and include a separate note indicating that your donation is for "Project 3624, Pattaya Slum Ministries".
If you would like to financially support Pattaya Slum Ministries please send donations through a Canadian Foundation called Hope Mission.


There are two options:

1) By Cheque: send to:

Hope Mission

P.O. Box 953

Edmonton, AB

T5J 2L8 Canada

(Include a letter saying it is for Pattaya Slum Ministries 
or Pattaya Slum Ministries staff person)
2) Online by credit card:

Click on the link below.
Online Donation

Under "Fund/Designation" - choose Project L.I.F.E. 
In the instruction box, type Pattaya Slum Ministries, or specific
 Project L.I.F.E. ministry or PLF staff person.