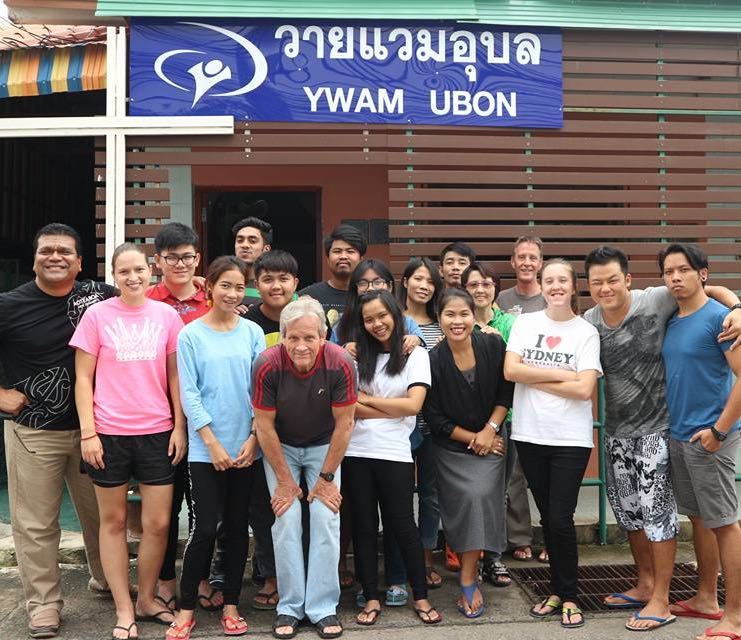 Location: YWAM Ubon Ratchathani
Date: 3rd July 2017 to 14th Dec 2017
Fees: International Students: 106,000 Baht (Approximately USD$3,000)
           Thai and Lao Students: 46,000 Baht
           (Note: Fees cover the entirety of the lecture and outreach phases, including lodging and food costs)
Outreach Locations: North East Thailand (Isaan region)
                                   Cambodia
                                   Laos
What is a DTS?
The Discipleship Training School (YWAM DTS) seeks to bring you into a more intimate relationship with God. Additionally, this school offers you an opportunity to discover your passions and your part in God's purposes for the world. The DTS is for those who long to follow Jesus in new ways and with a different perspective.
The course is a full-time program that lasts five or six months. In addition to this, DTSs can have a special "theme" steering the focus of a particular DTS, such as our upcoming Holy Spirit DTS. Furthermore, the DTS consists of two main parts: the lecture phase and the outreach phase. In the lecture phase, you will learn more about God and His Word. In addition to lectures, you will have the opportunity to grow through community projects and local outreaches. Moreover, the outreach phase focuses on applying what you learned in the classroom through an intense, cross-cultural ministry experience.
Why should you do a Holy Spirit DTS?
In our Holy Spirit DTS, we desire that students encounter the Holy Spirit, the Spirit of God, in a deeply intimate, and powerful way. Through our tailored intentional schedules, teaching, and mentoring students will understand and practice walking with the Holy Spirit as a way of life. We will learn to discern and move in prophetic anointing and the anointing of healing and deliverance. Most importantly we will learn how to walk in communion and fellowship with the Holy Spirit, for this relationship is our inheritance!
"The grace of the Lord Jesus Christ, and the love of God, and the communion/fellowship of/with the Holy Spirit be with you all?" 2 Corinthians 13:14
Koinonia (Greek) is communion, intimacy, and fellowship
Everyone who is saved has the Holy Spirit "in you" presence, but if we want to feel and know the Holy Spirit is with us, hovering over us in everything we do and everywhere we go, then we need to know Him. It's about nurturing intimacy. Then you can't help but have the presence of God on your life. And what an impact that has on the people around you! Jesus calls the Holy Spirit: "the Spirit of truth," and "another Helper." The term "Another Helper" means, "One besides; another of the same kind." To paraphrase, it's like Jesus is saying: "The Helper is One besides Me; He is clearly in addition to Me, but He is One just like Me. In My absence, He will do what I would do if I were physically with you."
Testimonies from our past DTSs
DTS 2016: During our lecture phase, the Holy Spirit gave us a clear word that we would meet an elderly lady dressed in purple attire and situated next to a shop. On our very first week of outreach, while we were prayer walking, God led us to that lady. She was filled with fear and was partly blind and deaf; she was crippled. As we reached out to this precious life, our DTS team was filled with anticipation - what was God going to do? Indeed, God healed her; she was able to walk for the first time in 8 years. He filled her heart with peace, and she gave her life to Jesus.
DTS 2015: Our DTS team did our weekly "treasure hunt" around Ubon, seeking people around the city whom God desired to touch with His love. Additionally, the Holy Spirit gave us a word that we would meet a lady selling food and who would be wearing a red, polka-dot apron. God revealed to us that this woman's relative was in the hospital suffering from abdominal problems. We were so excited when we finally met this lady, and we asked her about her sick relative. Her response was a surprised, "How do you know?" It turned out that her father had been admitted to the hospital for stomach issues. We prayed for her and her dad, and as our team prayed for her, several bystanders asked for prayers as well.
Topics Covered: Over the 13 weeks of the Lecture Phase, the DTS will cover various subjects. These topics are designed to help the student encounter God and align their lives with a Biblical perspective in order to develop a lasting relationship with Jesus and to make Him known.
Week 1: Nature and Character of God
Week 2: Biblical Worldview
Week 3: Holy Spirit and Hearing the Voice of God
Week 4: Fear of God, Sin and Repentance
Week 5: Father Heart of God
Week 6: Inner Healing and Divine Plumb Line
Week 7: Worship and Intercession
Week 8: God design for Relationship
Week 9: Authority and Submission and Servant Leadership
Week 10: Spiritual Warfare
Week 11: Cost of Discipleship
Week 12: Evangelism and Mission
Week 13: Call of God and Destiny
Contact
Want to apply for the DTS or have a burning question you need answered? Send us a message and we will be more than happy to help!
NOTE: The 2017 Holy Spirit DTS is now open for application!
Contact Holy Spirit Discipleship Training School
Financial Support
Note: Online donations are NOT tax deductible.