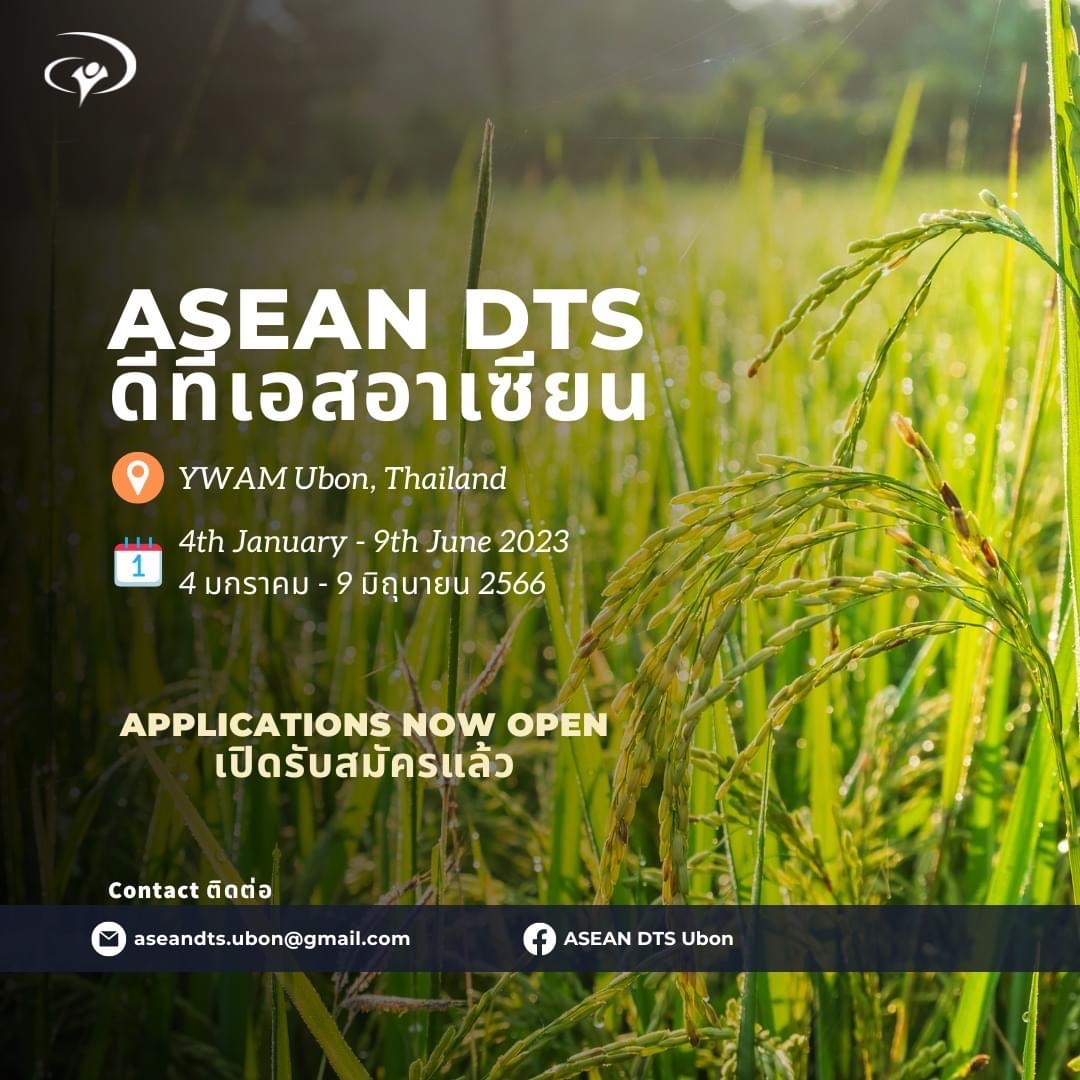 Next DTS Starts: January 4, 2023
Language: English & Thai
Why do a DTS?
Purpose
To gather and challenge a person to worship, listen to and obey God, releasing them (in context of DTS) to serve through evangelism, intercession, acts of compassion and other expressions of God's heartier the world, possibly even pioneering new ministries. 
To inspire and cultivate growth in one's relationship with God resulting in Christ like Character, which is based on a solid Biblical foundation, the work of the Holy Spirit and the personal application of Biblical truth, especially concerning God's Character, the Cross and empowering Grace.
To Sharpen one's ability to relate, learn from and work with people, including those of different cultures, personalities and perspectives.
To further Equip each one to serve God's purposes in either in or outside of YWAM family of ministries, strengthening a commitment to reach the lost, especially the unreached, to care for the poor, and to influence all areas of society.
To Impart the vision and foundational values of Youth With A Mission international as well as that of the host operating location and to provide information regarding a variety of opportunities for service.
Our Curriculum
God's nature and Character: Encountering God
God's intentions for individual, peoples and nations: Seeing all of life from God's perspectives
God's redemption: Sin and the Cross: Recognizing Jesus as Lord
God's family: His children & His Church: Becoming more like Jesus
God's Word: His call and His Commission: Doing the Works of Jesus.
The Discipleship Training School (DTS) seeks to bring you into a more intimate relationship with God. It also gives you an opportunity to discover your passions and your part in God's purposes for the world. It is for those who long to follow Jesus in new ways with a different perspective.
The course is a full-time program and lasts five or six months. It consists of two parts: lecture phase and outreach phase. In the lecture phase, you will learn more about God and His world. You'll learn not only from lectures but also from community living and practical training. The outreach phase focuses on applying what you learned in the classroom through an intense, cross-cultural experience.
School Introduction
So, what is ASEAN DTS? It is an economic zone consisting of 10 Southeast Asian Nations, these nations and the unreached people groups that live in these nations, are the focus of this DTS. A DTS with YWAM Ubon Ratchathani will look different than other DTS schools because we will be part of one school that is starting in multiple locations (first 7 weeks are separate). Then all locations, including us, will come together in Cambodia (for 6 weeks) before going on outreach to different locations within the ASEAN Economic Zone for the main outreach portion of the school. After outreach, we will all join together again in Cambodia for one week before returning to each starting location for a separate debrief week and graduation.
Lecture Phase
During the lecture phase of DTS guest speakers will come every week to share on a variety of topics that are designed to help you grow in relationship with God. Our desire is for you to receive a deeper understanding of God's love for you, your identity in Him, His heart for the lost, and how to live as a disciple of Jesus proclaiming the Gospel to the world.
Topics include
Nature and Character of God
Bible Overview (Genesis to Revelation)
Father Heart of God
Inner Healing & Deliverance
Hearing the Voice of God & Holy Spirit
Relationships
Cost of Discipleship
Our Destiny
Intimacy with God
Evangelism & God's Hearts for the Lost
Celebrating Nations and Cultures
Identity in Christ & God's Calling
Outreach Phase (8 to 12 weeks)
Partnering with existing ministries locally during lecture phase and globally during outreach phase will provide for long-term opportunity, while introducing you to different types of ministry. The outreach phase allows you to practically apply knowledge from the lecture phase, which includes being able to share the Gospel with those you meet during the outreach time.
Outreach locations
As we believe God has place in our heart in YWAM Ubon to equipped the students, both Thai and Internationals, who have a heart and calling for the country of Laos and North East of Thailand, which number around 6.5 million in Laos and 22 million in the North East of Thailand. Our outreach location will be Laos, Isaan and Cambodia, which is part of Asean.
God is at work in the ASEAN Nations and there has never been a corporate DTS gathering like this before. Come and be a part of something special. Come sign up!!!
Contact ASEAN Discipleship Training School