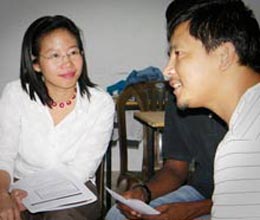 People of all cultures around the world have experienced the pain that comes with broken relationships and dysfunctional families. Our challenge and privilege as Christians is to proclaim the power of the Gospel to mend broken hearts.
Do you want to help people be restored to wholeness?
Are you called to mend hearts for God?
Are you willing to take God's healing to the communities, churches, ministries?
Do you want to be equipped and sharpen your interpersonal skills in order to serve God more effectively?
If you say YES, we would like to invite you to come and to discover the foundational truths that shape our ability to relate to God, ourselves and those around us. You will learn basic counseling skills to help others move towards wholeness, both in spirit and mind.
What is Counseling Ministry Thailand?
We aim to provide counseling services and equip ministries to bring healing to the communities, churches and ministries. We equip people with counseling tools to improve their relationships, education, personal development, interpersonal skills, emotional growth, and the quality of life based on the truth in the Bible.
Teaching Topics
How to be an active listener
Renewing the Mind
How to deepen relationships between couples
Confrontation
Shame
Hidden addictions that are holding back our relationship with God and others
Understanding our personality in order to understand ourselves and know how to relate to others
Father's Grace
How to lead a small group
Finding the gift path in order to know ourselves better
Burdens and how to set boundaries
Physically Abuse, Sexually Abuse, Emotionally Abuse
Codependency, emotional dependency
Sexual Addiction, working addiction, game addiction, gambling addiction, internet addiction, and food addiction
8-Hour Courses
Benefits: 
Build Stronger Teams: Counseling Ministry's Training helps teams connect at a deeper level and buy-in to new direction as they sharpen relational leadership skills. 
Create a New Culture: Counseling Ministry courses provide transferable, practical skills you can use to raise up YOUR OWN teachers to continue to equip others for more effective and lasting ministry. 
Increase Personal Growth and Discipleship: We provide experiences that are life-changing and produce Christ-like character and lasting results. 
Customized For You: We work with you to meet your team's specific developmental needs and goals. 
Trust Building

Trust is the foundation of all good relationships, leadership, and ministry. But most of us have never been taught how to build it – it harder still, how to restore it.
Trust building will help you encourage accountability and cultivate credibility at every level of church life and leadership. Ministers, elders, deacons, committee members, ministry team, missionaries, small groups, and potential leaders will learn how to:

Identify unintentional trust-busting habits
Improve intentional trust-building communication skills
Break invisible barriers that lead to disrespect and misunderstanding
Increase cooperation and lower frustration

Active Listening

The first in the series, lays a skill foundation that maximizes your ability to communicate care and understanding.  It helps to overcome barriers in communication that lead to conflict, misunderstanding, impatience, and manipulation. What you learn will positively impact all relational and ministry contexts.

Speaking the truth in love

We often speak truth, but not in a loving way. At other times we show love by holding back truth. Either way, we lose genuineness in relationships. Learn how to facilitate someone's journey into change, including how to set up appropriate goals, accountability, and confrontation.  Imagine a congregation walking genuinely and effectively together into relational whole.
In this course, learn proven skills for moving beyond surface interactions to address deeper issues and core life problems. Increase your ability to:

Ask questions that create deeper insight.

Help others set and reach healthy goals.

Confront in love and restore damaged trust

Renewing the Mind

The second series, this workshop gives you powerful tools to break out of habitual mental, emotional and behavior patterns that rob you of joy and spiritual impact. You will learn proven, biblical, life-changing techniques to:

Examine your heart for eight negative belief patterns that sap spiritual vitality. sap

Transform the four key areas of your life that lead to the greatest healing and growth. 

Replace false and self-defeating thinking and reinforce biblical sound beliefs.

Caring Couples: Increasing love, trust, and understanding

An enjoyable, quick-paced introduction to effective listening, communication, problem-solving, and intimacy-building skills for married and engaged couples.

Discover the biblical pattern for healthy couple relationships.

Overcome communication barriers that produce misunderstanding.

Improve your intimacy and minister to one another's needs.

Confronting conflict

Conflict presents an innovative, solutions-driven approach to the inevitable disagreements that arise at home and at work. Discover practical alternatives to use in the most difficult, frustrating situations.
A practical seminar that will help you:

Understanding what the bible teaches about Christians and conflict.

Examine emotional triggers and relational habits that perpetuate and deepen conflict.

Learn the essential processes and practical skills needed to gracefully manage and resolve most conflicts.

Finding Your Gift Path

Break out of frustrating roles that don't match your gifting. Discover God's unique design for you that leads to abundant living and fulfilling ministry.
Maximize your effectiveness by:

Identify your unique "spiritual DNA"

Finding ministry fit.

Experience the joy and fulfillment of doing more of what you were created to do.

Maximize the use of your time, talent, and treasure for God's kingdom.

Guiding Life-Changing Small Groups

Healthy small group ministry is one of the essential keys to spiritual growth and multiplication. Learn proven ways to build, lead, and troubleshoot healthy small groups.
Increase your ability to:

Engage and motivate group members.

Balance individual and group needs.

Gracefully manage extra-needy, uncooperative, and challenging group members.
These courses are about how to develop your team and to learn the basic counseling skills in order to serve in your ministry more effectively. The quality of relationships largely determines the success of your life and ministry. Where can you find the tools that will enhance your everyday relationships:
A deeper connection with your spouse and children, improved relationships with friends and coworkers, and effective ways to powerfully minister God's truth and grace to someone in need.
Our Ministry Needs
long and short term volunteers, both individuals and teams
10 000 Baht (US$280) per month for traveling and the general running costs of the ministry
video camera for counseling teaching purpose
Prayer Requests
All teaching that will bring the healing, transformation, restoration and impact to the family, self and communities around Asia
for an openness towards us in the family and community
opportunities to build relationships both in government, private organization, church, Thai Christian and share the Gospel
our staff and financial needs
Contact Counseling Ministry Thailand
YWAM Thailand National Office, 3rd Floor
Counseling Ministry Thailand
P.O. Box 20
Thungsetthi
Bangkok 10110
Thailand
Financial Support
Note: Online donations are NOT tax deductible.
If you wish to support our ministry through tax deductible donations, please send checks payable to "YWAM Montana" to:
"YWAM Montana, 501 Blacktail Rd., Lakeside, MT 59922, U.S.A.".
Please don't write anything else on the check and include a separate note indicating that your donation is for "Project 3377, YWAM Counseling Ministry".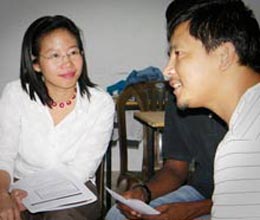 Counseling Ministry
Meet Our Staff
Share