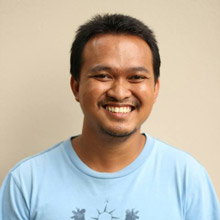 My name is Thaksin Jitkhong, and I am from Trang province in the south of Thailand. I have a younger brother. I grew up in a Christian family, my father is a pastor at a church in Trang. My mum also works washing and ironing clothes, as well as working at the church. Growing up in a Christian family, I was taught about God since I was a child, and had the opportunity to serve in the church as a child as well. I was baptised in high school, but that was a time when I started to stray away from God. I was interested in my friends more, and started doing a lot of bad things like getting drunk and gambling.
After I graduated from high school in 2003, I decided to continue my studies at university in Bangkok. I studied politics there. It was the first time that I got to know YWAM. I stayed at Baan Jai Diaow, which is like a dormitory for Christian students, and is a ministry of YWAM. I am really thankful to God for Baan Jai Diaow. It was a place that brought be back to God, and gave me more experiences of the love of God through staying together, worshipping God together, through bible study, and going on outreaches. I also had the opportunity to develop my musical skills in the way of God. I still had many instances when I did bag things, but I saw that my life was getting better because of the love of God that helped to change my life. In 2008 I completed my university studies and I volunteered with the YWAM Performing Arts team.
In 2010 I decided to do a Discipleship Training School (DTS) in Chiang Rai. During my DTS I had a lot of great times getting to know God more, His character and nature, which helped me know who I am in Christ. It also helped me to grow in the way of God. I had experiences in walking in faith with God, hearing God's voice, evangelism, and God's heart for other people, which is not only for people in my country, but for everyone on earth. I also learnt more about being a good disciple of Christ. 
After completing my DTS, while seeking God for direction for my next step, God gave me a heart for DTS'. So I decided to return to Chiang Rai and staff the next DTS.
In 2012 I was able to study the New Testament School of Biblical Studies through which I grew a lot in God's love, because God's grace is the reason that I want to live a life in response to His grace by taking the things I have learnt in His word and applying them in life. To be a good example to the DTS students so they can look to Jesus and continue to be a disciple of Him.
My Vision
I love playing music and worshipping. I want to see other people worshipping God and to see those that don't know God come to know Him, and come and worship Him. I want to see youth spending time in worship, instead of doing bad and innapropriate things. Most importatnly, I want to see Thai people that worship many idols, come to know God and come and worship Him.
Contact Thaksin Jitkhong