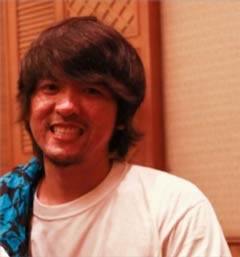 Hi, my name is Ekkaphon Sritonrach, or simply "Ek" and I am 28 years old. I come from Mahasarakham province in Thailand. I have 2 mothers, one gave birth to me, but the other raised me from when I was very small to when I grew up (I was adopted). I also have 2 younger siblings, my sister is 24 and my brother is 20.
My life as a child was mostly spent in the countryside, raising cattle and farming, until I was 16 when I came to study in the city at a technical college. A distant relative suggested that I stay at a Christian dorm. At the time I didn't know what Christians or Christianity were like, so I didn't think about it much, and agreed to stay there. At that time there was a UDTS (University Discipleship Training School) running at the dorm and I had the opportunity to join in with some of the activities like worship and group activities. Then when I went to study University in Khon Kaen (Ratchamongkol University) and studied my UDTS there, it was the beginning of my coming to know God and my service for Him, which continues to this day.
Currently I am serving with YWAM Mahasarakham with the student ministry. I am leading the team at one of the universities here, and there are currently 6 Christian students that our team of 2 help look after. Outside of serving with YWAM, I also help out with my local church, Mahasarakham Nazarene Church, with the worship team, teaching music to the church youth, and helping with various church activities.
Prayer Points
Pray for God to increase my wisdom in looking after the students at the university, both those that are Christian and those that aren't.
Pray that my personal life will show love, that my family will see this and accept my service (my family aren't Christians, and are against what I do).
Pray that God will increase my giftings in worship, music and the bible.
If you have anything that you would like me to be praying for, please let me know. May God bless you in all things.
Contact Ek Sritonrach