YWAM Phitsanulok
" …These were his instructions to them: "The harvest is great, but the workers are few. So pray to the Lord who is in charge of the harvest; ask him to send more workers into his fields…" - Luke 10:2 (New Living Translation)
"My ambition has always been to preach the Good News where the name of Christ has never been heard, rather than where the a church has already been started by someone else" -  Romans 15:20 (New Living Translation)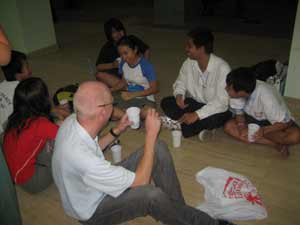 Our Focus
Evangelism
Urban Ministry: Currently we are sending teams to share the good news in the urban city of Phitsanulok and surrounding provinces.
University Ministry: In Phitsanulok there are 8 universities and colleges. Because Phitsunalok is the center of the southern part of Northern Thailand, students come from 14-15 provinces nearby. We go into the campuses every week to share the gospel with the students, and with hopes for a church plant. From there we would like to see the students go out and plant churches in other universities.
Village Ministry: We evangelize and teach English in the Ponhompiram district, which is the second largest district in the province, after the city center. However, we don't know of any churches, or even gathering believers, in this district. When we first went there, we felt that God was calling us to plant a church there, and that He wants to see many people come to know Him.
Church Planting
Wherever we go it is our goal to begin planting churches where Thai's can lead and have a community of believers to worship and serve God together.
Training
Regular discipleship groups improve lives, physically, emotionally and spiritually.
Goals
It is our desire that Thai people in the lower part of the North region of Thailand (Phitsanulok and others provinces), come to know God and have a personal relationship with Jesus. We want to see them fully grow in their potential and be motivated by an overwhelming dedication in their hearts for others to know God and be passionate about Him.
In the next 5 years we hope to lead and train as many Thai's as possible in the word of God. And within 10 years, they will go to all nations and preach the gospel.
Prayer Requests
Please pray for more long or short-term staff to come and work with our ministry.
Please pray for each area of ministry we are involved in: Campus ministry, urban evangelism, English teaching, church planting and village ministry.
Please pray with us as we disciple and raise up leaders from the local people. Pray that they will be filled with courage and continue to grow as leaders in the image of Christ.
Financial Support

Note: Online donations are NOT tax deductible.